For our Economic Development Initiative, GAMAE Arts & Culture Division seeks funds for our arts education programs. We look to further build on the community momentum to provide employment, economic opportunities and create entrepreneurs to alleviate poverty, and to assist in moving the Garifuna people into the 21st century and beyond.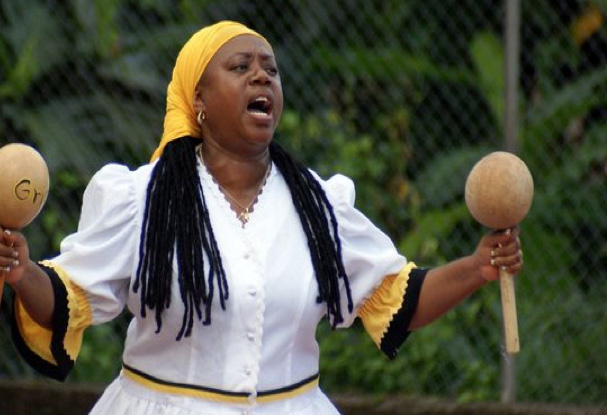 ARTISTIC DIRECTOR & GAMAE CO-FOUNDER
Eleanor Castillo-Bullock was born in the small coastal village of Dangriga, also known as Stan Creek, in Belize.Eleanor became a leading figure in a rowing renaissance of young Garifuna intellectuals, artists and scholars who write poetry, drama and plays in their native Garifuna language. As a graduate of Syracuse University, Visual and Performing Arts Program, Eleanor saw an opportunity to create and design performing arts programs based on the Garifuna culture and language. She has created and designed a full scope of Garifuna multi-generational language immersion program with an ensemble of some of the best traditional Garifuna music, songs, and unique Garifuna poetry and drama for Garifuna as well as non-Garifuna children. She is currently working on a Language Revitalization Project in the Performing Arts to ensure the survival of her indigenous language.
A Language Revitalization Project in the Performing Arts
In 2001, UNESCO proclaimed the traditional language, dance and music of the Garifuna a Masterpiece of the Oral and Intangible Heritage of Humanity. Without the preservation of the traditional Garifuna language and its oral tradition of passing stories, beliefs and concepts from one generation to the next, the Garifuna culture and language could be forever lost.

It is estimated that, if nothing is done, half of 6000 plus languages spoken today will disappear by the end of this century. With the disappearance of unwritten and undocumented languages, humanity would lose not only a cultural wealth but also important ancestral knowledge embedded, in particular, in indigenous languages. -UNESCO
Dangriga, Belize (2005 & 2008)
St. Peter's Catholic Church (Brooklyn, NY) 2009
St. Vincent & the Grenadines (2011)
Phillips Academy (Andover, MA) (2013)
New Jersey Folk Festival, Rutgers University (New Brunswick, NJ) (2013)
New York Philharmonic (2022) (2023)
Martha Mitchell Recreation (Bronx, NY) (2013)
Garifuna Coalition USA Inc. (2014)
New York New Works Theatre (2014)
(RAICES) The Refugeeand Immigrant Center for Education and Legal Services (2023)
Wheaton Arts and Cultural Center (2015) (2018) (2022) (2023)
Caribbean Community in Philadelphia (2023)
Feria Del Barrio: Celebrating Philadelphia's Latin Community (2023)
Smithsonian National Museum of the American Indian (2023)
Dangriga, Belize, 2005 & 2008St. Peter's Catholic Church (Brooklyn, NY) 2009 St. Vincent & the Grenadines, 2011 Phillips Academy (Andover, MA) 2013 New Jersey Folk Festival, Rutgers University
(New Brunswick, NJ) 2013
Martha Mitchell Recreation
(Bronx, NY) 2013
Garifuna Language Performing Arts Program
Countries with Garifuna people





St. Vincent & the Grenadines
HABINAHA GARINAGU: THE PROGRAM
Habinaha Garinagu is a Garifuna Language Revitalization Program that teaches the Garifuna heritage, history, language and culture through the performing arts. Through this interpretive exhibition of dance, drama, music and storytelling, we aim to promote, protect and preserve Garifuna culture and language and to pass down traditional Garifuna knowledge and sacred rituals to the younger generation in an effort to raise their cultural awareness and to increase their knowledge of the Garifuna history, traditions, values, culture and language. Since 2005, the talented performers of the Habinaha Garinagu program have shared the cultural traditions and expressions of the Garifuna people with audiences in the US and abroad. Garifuna and non-Garifuna children, youth and young adults perform together, singing traditional Garifuna songs with lyrics transposed to English, allowing participants and audience members to understand the performance and ultimately know the story of the Garifuna people.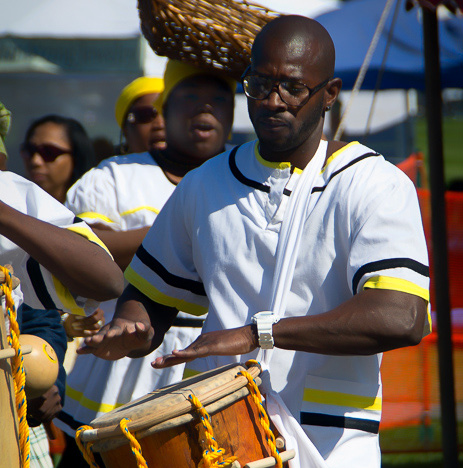 Interested in presenting traditional Garifuna language and culture?
GAMAE Garifuna Performing Arts Company and our Artistic Director welcome invitations for
performances, exhibitions,
workshops, seminars, lectures,
and classroom discussions
and demonstrations.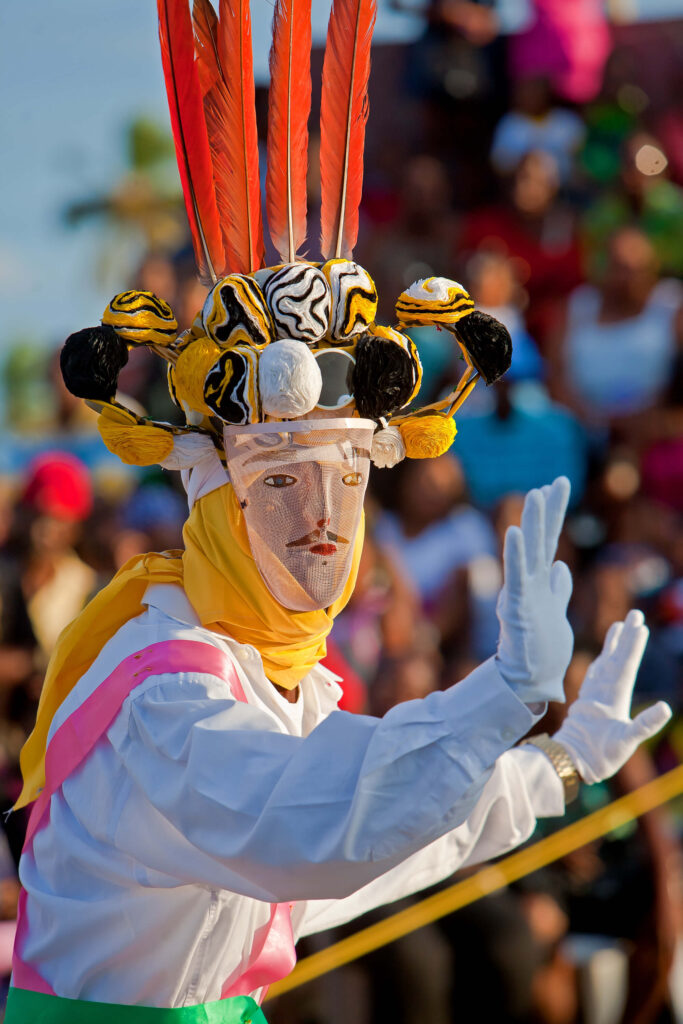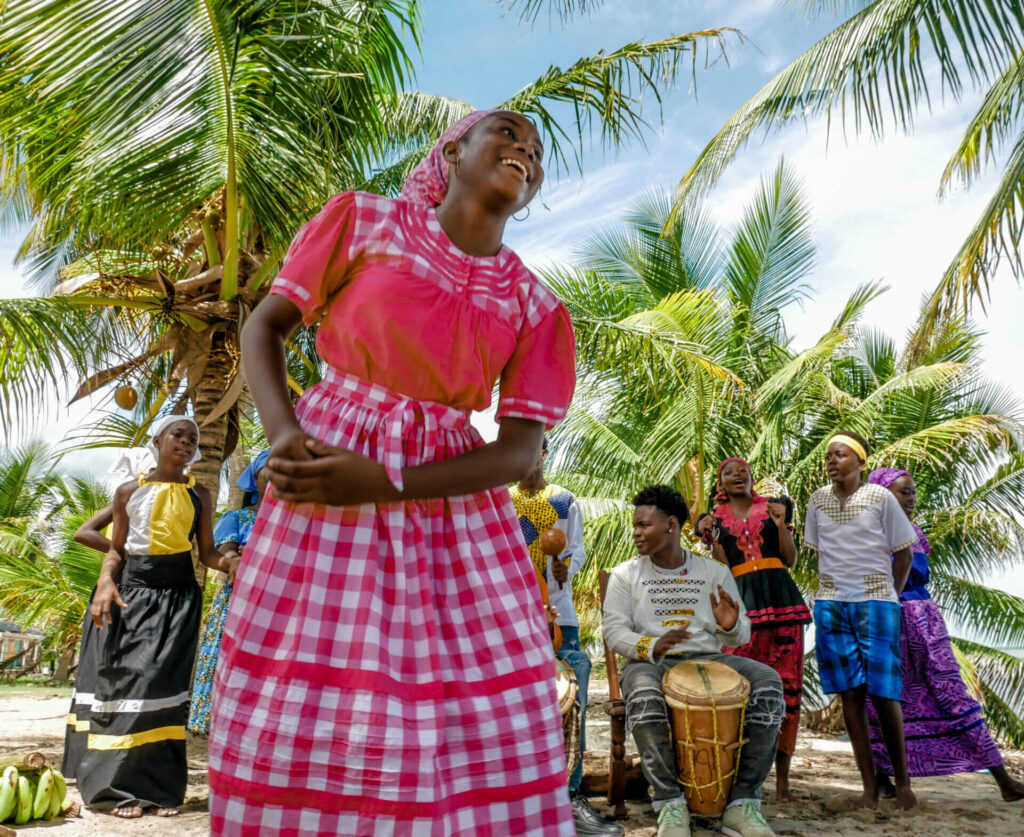 Theater Production Academy
We are dedicated to nurturing the talents of the Garifuna children, youth, and young adults, supporting their growth in the realms of performing and digital arts. The GAMAE Theater Production Academy plays a crucial role in preserving our endangered ancestral language. Through an innovative global program, we harness virtual platforms to facilitate language revitalization. By empowering Garifuna youth and young adults through the performing and digital arts, we aim to position them as leaders within the worldwide Garifuna community.
Our Projects: The Habinaha Garinagu Program© serves as the cornerstone of Garifuna Language Revitalization. This comprehensive training program immerses participants in the rich Garifuna heritage, history, language, and culture through the medium of performing arts. It is a global initiative that leverages interpretive exhibitions featuring dance, drama, music, and storytelling to both promote and safeguard our language.

In addition, our Digital Arts Production initiative harnesses the power of both performing and digital arts to reach a global audience. Within the academy, a select group of individuals fluent in the language undertake the task of digitizing our language through animation and audio book formats. This pioneering effort serves as a historical documentation of a successful and effective language retrieval program, ensuring the legacy of our language endures.
GAMAE International, a 501(C)(3) nonprofit organization. All donations are tax deductible